Invisalign
Invisalign is a modern, innovative methodologies included painless treatment to straighten teeth. It is a customizable option of teeth straightening where the removable aligners are made, understanding the unique needs of the patients. Such aligner trays are comfortable, smooth that are made up of barely noticeable plastic that is easy to wear. It positions back your teeth in place gently and gradually because of perfect movements planned by our orthodontist for the user. No inclusion of strenuous and painful metal brackets or wires tightening procedure. Under this treatment, patients will be replaced with new set or aligners every two weeks once. It continues until they gain a wide confident smile that he/she wish to throw to others without knowing that they are undergoing such treatment. In short, Invisalign teeth straightening is a stress-free treatment for all ages.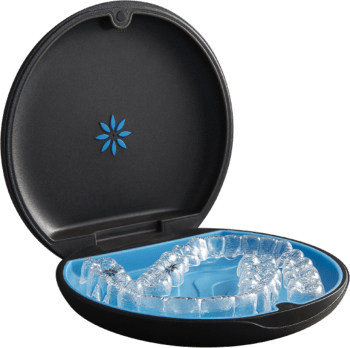 Barely Visible: Invisalign helps you to acquire a poised smile than other traditional braces as the aligners are almost invisible.
Comfort to Use: Invisalign are made up of light weighted smooth material and it will not create any painful cuts or nicks in the mouth. These clear aligners can be easily removed whenever patients plan to join a family occasion or a special night out. In contrast to traditional approach, Invisalign permits the patients to consume hard meats, tough breads, and raw vegetables.
Fast Results: With these invisible aligners one can experience visible results from the earliest month of treatment. In fact, the near and dears of you may never know that you are getting treated while wearing this Invisalign clear aligners as they are wholly invisible
to their views.
Painless Option: You can enjoy effective Invisalign teeth straightening treatment in a most gentle and gradual approach. When compared to traditional approaches that includes pain and irritation. Invisalign is free from all these discomforts throughout the procedure.
Suitable for All: Invisalign is suitable for all ages. Just take out aligners while taking
part in a special gathering and can pop them back after partying. It is so easy to wear
over your teeth.
Minimum Visits: It is an ideal choice for your hectic schedule, with necessity of few doctor visits in contrast to other choice of traditional treatments. It calls for doctor visits every three to four weeks once that facilitating you to carry on with your important schedules without any interruptions.
Fixed Timelines: With Invisalign treatment, you can clearly visualize the duration of the treatment during
every stage.
Perfect Oral Health: Even while you are in Invisalign treatment, it is easy to perform normal teeth cleaning
like flossing, brushing which is very difficult with braces treatment. Also, there are lesser
chances of accumulation of plaque leading you to maintain good oral health.